The winners of the 2015 Colouring Competition are: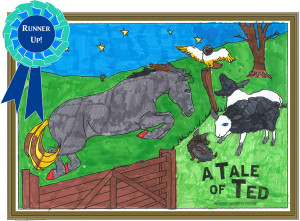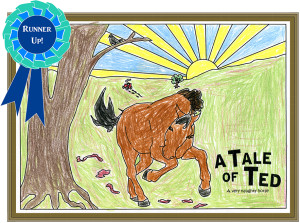 ---
Sponsored by Crumps Barn Studio, Lorna Gray, the artist behind A Tale of Ted's colourful illustrations, has opened a colouring competition.
Can you make your own picture of a very very naughty horse?
You can use pens, paint, pencils, crayons … pretty much anything you like just so long as you start with one of these two drawings.
The prize is a special t-shirt featuring an original design or an original signed drawing created by Lorna herself!
To enter:
Send a photo of your finished drawing to: books@crumpsbarnstudio.co.uk
Or the original by post to: Crumps Barn Studio, Crumps Barn, Syde, Cheltenham GL53 9PN
Be sure to include your name, address, telephone number and age. If you like, you can tell us why you loved A Tale of Ted: A very naughty horse.
The rules:
You must be a resident of the UK
One entry permitted per person
Choose one of the two designs
You agree by entering to allow Crumps Barn Studio to use your drawing as part of its marketing
You can be any age
The winner will be able to choose between receiving an original drawing or a t-shirt as a prize. There is no cash alternative. The t-shirt will be a size of your choice. Colour choices may be available at the artist's discretion
Your choices:
Download the challenge as a PDF
Closing Date: Closing date: August 6th 2015
winner to be announced within two weeks of that date.